Religious School Directors
Religious School Directors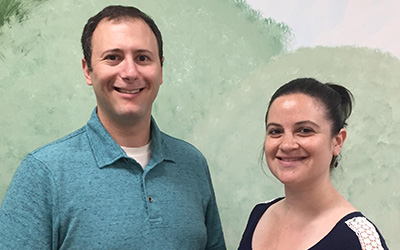 Rabbi Jordan Hersh and Cantor Shulie Hersh became co-principals of the Beth Sholom Religious School in September 2017. Not only do they bring their experiences teaching in Hebrew schools in New York and New Jersey, but also their outstanding abilities to connect with students, parents and teachers on a multitude of levels. One of the great benefits of their role as co-principals is that they have the opportunity to get to know the children well before beginning their B'nai Mitzvah training.
Rabbi and Cantor Shulie have instituted into the curriculum a greater use of ShalomLearning, an online learning platform that is broken up into sections on Jewish values and Hebrew proficiency. Also, they have engaged a Hebrew specialist to help students at every grade level improve their proficiency in Hebrew reading skills. Learning tefillot (prayers) is fun, with Rabbi Hersh on the guitar and Cantor Shulie singing the prayer tunes.
The Rabbi and Cantor encourage parents to reach out with questions and concerns regarding their children's religious education. Feel free to contact them at 301-663-3437 or by email at RSprincipal@bethsholomfrederick.org.
Tue, October 4 2022
9 Tishrei 5783
Tue, October 4 2022 9 Tishrei 5783