Religious School Directors
Religious School Directors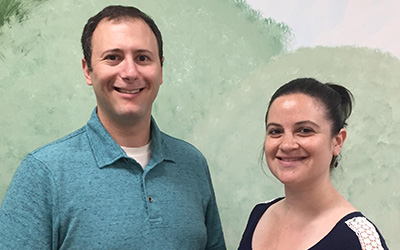 Rabbi Jordan Hersh and Cantor Shulie Hersh became co-principals of the Beth Sholom Religious School in September 2017. Not only do they bring their experiences teaching in Hebrew schools in New York and New Jersey, but also their outstanding abilities to connect with students, parents and teachers on a multitude of levels. One of the great benefits of their role as co-principals is that they have the opportunity to get to know the children well before beginning their B'nai Mitzvah training.
Rabbi and Cantor Shulie have instituted into the curriculum a greater use of ShalomLearning, an online learning platform that is broken up into sections on Jewish values and Hebrew proficiency. Also, they have engaged a Hebrew specialist to help students at every grade level improve their proficiency in Hebrew reading skills. Learning tefillot (prayers) is fun, with Rabbi Hersh on the guitar and Cantor Shulie singing the prayer tunes.
The Rabbi and Cantor encourage parents to reach out with questions and concerns regarding their children's religious education. Feel free to contact them at 301-663-3437 or by email at RSprincipal@bethsholomfrederick.org.
Sat, October 16 2021
10 Cheshvan 5782
Upcoming Events
All Events
Sunday

,

Oct

October

17

,

2021

Religious School


Sunday, Oct 17th

9:15a

to

12:30p




Sunday

,

Oct

October

17

,

2021

Torah Study


Sunday, Oct 17th

11:30a

to

12:30p




Studying Torah, counted among the 613 mitzvot, is based on the verse from Deuteronomy, "And you shall teach it to your children." Join us virtually on Zoom on Sunday monrnings as we delve into the intricacies and teachings of the Torah. Zoom link: https://us02web.zoom.us/j/82303429941?pwd=N3FYMXdScVdGYTg2dmdJd2hMMWdxQT09#success

Tuesday

,

Oct

October

19

,

2021

Meditation Class


Tuesday, Oct 19th

10:00a

to

11:00a




Mindful Meditation practiced through the lens of Jewish teachings and prayer.

Wednesday

,

Oct

October

20

,

2021

Adult Bat Mitzvah Class


Wednesday, Oct 20th

10:30a

to

12:00p




Led by Cantor Shulie, this opportunity is available for all those who have never had a Bat Mitzvah.

Wednesday

,

Oct

October

20

,

2021

Knit & Knosh


Wednesday, Oct 20th

1:00p

to

4:00p




Join our growing group of avid knitters, crocheters and needlepointers. Work on your own project or create something to donate to a worthy cause.
Sat, October 16 2021 10 Cheshvan 5782