Our Cantor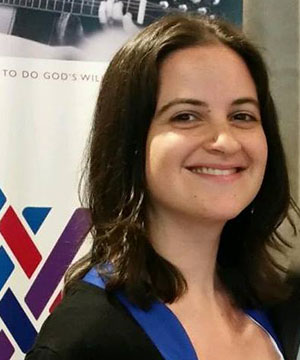 Cantor Shulie Hersh, a graduate of the Academy for Jewish Religion, became Beth Sholom's first-ever cantor in July 2015. She serves the congregation in a variety of musical and educational capacities. Her beautiful voice enhances and brings a spiritual warmth to our Shabbat and holiday services.
Cantor Hersh serves the congregation in various capacities. She conducts the music program for the synagogue's Early Childhood Center, leads the monthly Tot Shabbat program and the Rosh Chodesh women's group, trains B'nai Mitzvah students, and leads all holiday and some Shabbat services.
Cantor Hersh brings diverse experiences to her role as part-time director of the musical component of Beth Sholom's programs and services. Prior to joining Beth Sholom, she served as a cantorial intern at two synagogues in Israel, as a student cantor at Temple Beth El Mekor Chayim in Cranford, N.J., and as head prayer coordinator at Camp Ramah in Wisconsin. She also helped preteens prepare for their B'nai Mitzvah.
Cantor Hersh is married to Rabbi Jordan Hersh, who is Beth Sholom's full-time rabbi. They met while living and studying in Jerusalem. In her free time she enjoys writing music, as well as cooking, gardening, hiking, traveling and yoga. They have two young sons, Ziv and Edden.
Contact Cantor Hersh by phone at 301-663-3437 or by email at cantor@bethsholomfrederick.org.
Sat, October 16 2021
10 Cheshvan 5782
Upcoming Events
All Events
Sunday

,

Oct

October

17

,

2021

Religious School


Sunday, Oct 17th

9:15a

to

12:30p




Sunday

,

Oct

October

17

,

2021

Torah Study


Sunday, Oct 17th

11:30a

to

12:30p




Studying Torah, counted among the 613 mitzvot, is based on the verse from Deuteronomy, "And you shall teach it to your children." Join us virtually on Zoom on Sunday monrnings as we delve into the intricacies and teachings of the Torah. Zoom link: https://us02web.zoom.us/j/82303429941?pwd=N3FYMXdScVdGYTg2dmdJd2hMMWdxQT09#success

Tuesday

,

Oct

October

19

,

2021

Meditation Class


Tuesday, Oct 19th

10:00a

to

11:00a




Mindful Meditation practiced through the lens of Jewish teachings and prayer.

Wednesday

,

Oct

October

20

,

2021

Adult Bat Mitzvah Class


Wednesday, Oct 20th

10:30a

to

12:00p




Led by Cantor Shulie, this opportunity is available for all those who have never had a Bat Mitzvah.

Wednesday

,

Oct

October

20

,

2021

Knit & Knosh


Wednesday, Oct 20th

1:00p

to

4:00p




Join our growing group of avid knitters, crocheters and needlepointers. Work on your own project or create something to donate to a worthy cause.
Sat, October 16 2021 10 Cheshvan 5782